As our community continues to struggle through this pandemic, as violence causes pain for our neighbors and loved ones, and as the City navigates a budget gap -- proposing to cut critical services that many of us know are not enough to begin with -- I want you to know I am committed to fight for and protect all Oaklanders. 
I'm inspired by the compassion so many of you have shown during this hard year, from organizing meal drops and donations, to raising funds for struggling local businesses and families, to organizing virtual meet-ups to bring folks together and battle the isolation and discouragement many of us feel.
I am grateful for you, and from my family to yours, we send our warmest  wishes for a safe, healthy holiday season and a 2021 filled with peace, connection, and love.
In this newsletter, you'll find information about:
Paving and traffic safety projects happening now and coming up for District 2

City and district news and resources, including legislation on all-electric buildings and vaccine access for our educators, and support local businesses
Updates on Traffic Safety and Paving Projects
E. 15th + Foothill, E. 12th + 2nd Ave, 14th Ave, West Lake Merritt
There have been many traffic-safety related deaths and injuries in our district, and these are tragedies we cannot accept. Over the last year, our hardworking OakDOT team has made great progress in paving and pedestrian/traffic safety upgrades in our neighborhoods, which we are sharing below. We still have much to do to make our streets safer, and I'm committed to prioritizing our budget resources, policy, and neighborhood voices to help meet the urgent need for increased traffic safety in our communities.
Thank you to the crews that have been repaving streets in District 2 this month. Please watch for "no parking" signs and move your vehicles to avoid towing on:
13th Ave

11th Ave from Bayview to E. 8th St.

4th Ave from E. 10th to E. 18th St.
See roads that will be paved in the next 3 months, the 3-year schedule for all 130 miles of planned paving, and what OakDOT accomplished in Year 1. 
We also recently received and want to share a presentation focused on major transportation grant funding projects in our district.
Learn more

 

about the planned improvements and status of current projects, including for D2's Oakland High, D5's Edna Brewer Middle School, and lower Park Blvd.
Here are a few projects that are important to addressing community safety.
1. E. 15th + Foothill Crash Response
Thank you to neighbors and school staff of Franklin Elementary who've advocated for many years to improve traffic safety in the area, and for consistently alerting our team and OakDOT of repeat collisions, hit-and-runs, injuries, and fatalities. 
Transportation Planner Manuel Corona, [email protected], recently presented to the Bella Vista NCPC and Franklin school leadership on plans to calm speeding and improve safety along the E. 15th and Foothill corridors.
See the full presentation here.
Key improvements include:
Repaving

High visibility crosswalks and painted safety zones with elevated rubber wheel stops, stop signs, vertical elements at high injury intersections

Buffered bike lanes from 1st Ave to 14th Ave on both E. 15th and Foothill
Construction will begin between late 2020 to early 2021.
In addition, after years of neighborhood organizing, speed bumps were recently installed on 9th Ave leading to Foothill. Our team joined efforts to gather petition signatures from neighbors over the last year. Shoutout and photo credit to Silvio C. for leading this effort. 
2. E. 12th and 2nd Ave. Cyclist Fatality Rapid Response
In September, a member of our Chinatown community Lizhu Peng was killed in a crash with a left-turning vehicle while riding her bike and using the pedestrian crosswalk to cross E. 12th at 2nd Ave. OakDOT took action through its Rapid Response program to implement safety measures to reduce the severity and likelihood of this type of crash from happening in the future. 
Key improvements include: 
Hardened centerlines on intersection approaches to slow drivers, especially for left turns

Yield to pedestrian signs installed directed at left-turning vehicles

Adjusting the timing on crosswalk signals to give pedestrians a head start before drivers get the green light
3. 14th Avenue Streetscape Project
14th Ave currently is a relatively high-speed, 4 lane road that is not easy for pedestrians to use. OakDOT's streetscape project focuses on improving safety for pedestrians, increasing visibility for walkers and bikers, slowing vehicles down, improving access for people with disabilities, and upgrading bus stop safety and infrastructure. 
Transportation Planner Charlie Ream, [email protected], recently presented to the San Antonio NCPC on plans to improve safety on 14th Avenue.
See full presentation here.
Key improvements include: 
Installing Rapid Flashing Beacons at seven intersections

Extending sidewalks for shorter crossing distances at intersections

Extending + creating new median islands to slow left-turns

Reducing number of lanes to slow down traffic

Buffered bike lanes + new sidewalk lighting + new trees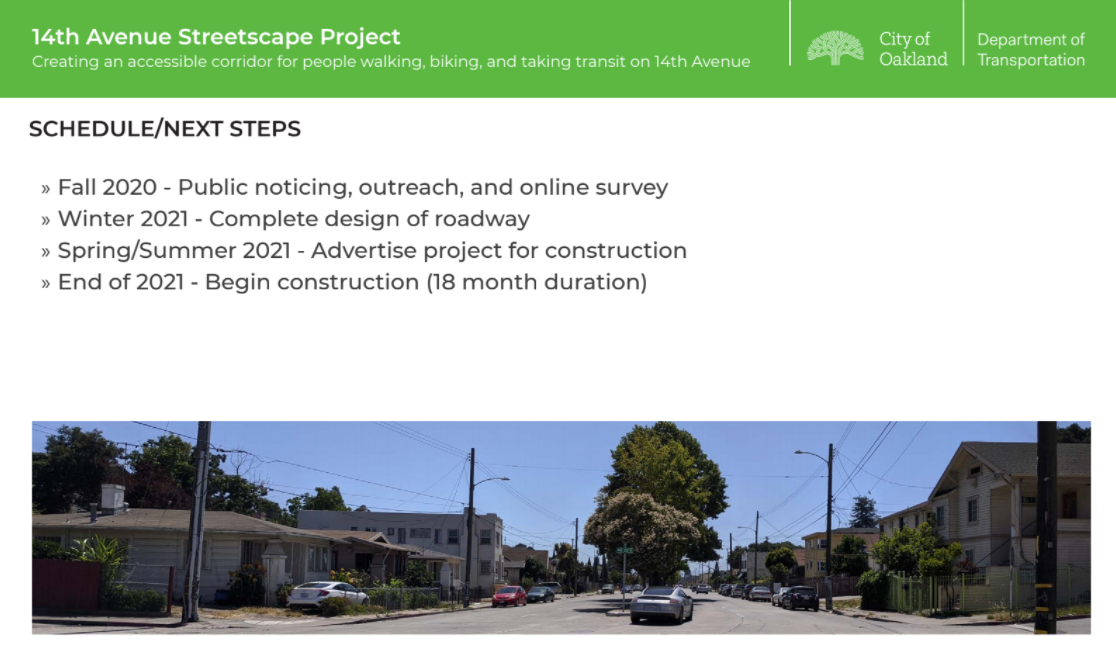 4. Lake Merritt Bikeway Improvements Project
This project focuses on increasing connectivity from Chinatown / Downtown / Lake Merritt BART station to Eastlake, increasing bicycle and pedestrian safety, better integrating with AC Transit infrastructure, and alleviating congestion on the Lake Merritt mixed-use pathway sidewalks.
Please take OakDOT's survey about this project if you live close to or frequently use Lakeside Drive or Lake Merritt Blvd. 
Transportation Planner Charlie Ream, [email protected], recently presented to the San Antonio NCPC on plans to improve connectivity and safety around Lake Merritt between Madison and E. 12th.
See full presentation here.
Key improvements include:
2021 repaving of Lakeside Drive from Madison St. to Lake Merritt Boulevard

2021 repaving of Lake Merritt Boulevard from Lakeside to E. 12th St

Enhanced, high visibility pedestrian crosswalks

Raised concrete islands protecting cyclists from vehicle traffic

Reduced lanes to slow vehicles down
City + District 2 News and Resources
All-Electric Buildings, Educator Vaccine Access, Youth Mini-Grants, and More
Bella Vista Park -- Supporting Our Skate Community: Thank you to neighbors who flagged for my office the city's plans to remove the community-built skate structures at the park. With your help, my office advocated to delay the removal and organized a meeting of skaters, neighbors, and Bella Vista School families with Public Works and Parks + Rec leaders to understand each other's perspectives, co-develop a plan to assess the safety and maintenance of the skate structures, and identify next steps for prompt consideration and approval by our Parks and Rec Advisory Commission. I am grateful for your leadership to ensure that BV Park can continue to provide positive benefits to young people and our surrounding community of neighbors and school families. Learn more here from Oaklandside.
Apply for $5K Youth Mini-Grants: Are you a young Oakland resident between 13-21 years old? Do you have ideas on ways to build community, healing, and promote safety in your community and schools? Oakland ReCAST is offering up to $5K in grant funds. The four categories for project ideas include: education and awareness about law enforcement interactions, community and relationship building, resiliency and healing, and addressing trauma. Apply by January 19 and learn more here. 
Bulky Pickup Before 12/31: You can have one bulky pickup per calendar year, and it does not roll over into 2021, so if you haven't already, you can schedule a curbside bulky pickup appointment for large items with Waste Management by calling (510)-613-8710 or online for large items.
Addressing Climate Crisis + Protecting Public Health: Last Tuesday, December 15th we passed legislation I co-sponsored to ensure that moving forward, electric infrastructure and appliances will be used in newly constructed buildings throughout Oakland. This is an important step to reduce greenhouse gas emissions, improve public health -- with natural gas linked to poorer ventilation + respiratory health -- and earthquake safety. Thank you to CM Kalb, Mayor Schaaf and City Planning & Building Department for your leadership and partnership! Read more from Berkeleyside.
Prioritizing Educators for Vaccine Access: City Council passed my resolution urging Governor Newsom and CA Department of Public Health to prioritize our public school educators for COVID vaccine access. Any discussion of schools reopening must include providing vaccines to all school site personnel, in addition to testing and mitigation measures like contact tracing, improving school ventilation, and creating support for small and stable cohorts of students. I'm proud to join with other elected leaders across the state in this effort. Read more from Mission Local. Thanks to my co-sponsors, Councilmembers Sheng Thao and Loren Taylor. Photo by Sara Shepich via The Oaklandside.
Holiday Fire Safety: Festive celebrations, flickering lights and winter greens are hallmarks of the holidays, but they also present fire risks. Just this week in West Oakland, a fire started when a string of lights overheated while stretched on the floor above a heating vent. Please review this information shared from Oakland Fire Department on potential fire risks, including tip sheets and videos to safely enjoy the holidays.   
City Opens Clifton Hall to Unsheltered Seniors and Families: Through the state's Project Homekey program, the city acquired Clifton Hall in Rockridge to provide 63 units of deeply affordable long and short term housing. The building will house Family Front Door (the hub for Coordinated Entry System for homeless families in Alameda County) on the ground floor; a 20-household family shelter on the second floor; and two upper floors of permanent housing for seniors experiencing homelessness and at high risk of contracting COVID-19.
Help Save The Alley, Oakland's Last Piano Bar: Oakland's historic, colorful Alley piano bar on Grand Ave., open since 1933, is on the brink of closure. Dedicated regulars have formed the Alley Preservation Society and a gofundme to raise $75,000 to keep the piano bar afloat and help raise funds for mortgage, property tax and utilities. Read more here in Oaklandside. 
Keep Oakland Alive: Support local businesses by shopping at Keep Oakand Alive. Everything you find on this site comes directly from a local Oakland retail store. The shops owned by the people who live right next to you. The shops you go to when you forgot to buy your spouse or your kiddo a present and today is the day. The shops who always welcome you with open arms and greet you with a hearty "Hello!" when you walk through the door. 
Oakland Restaurant Week: From January 7-18, support our community's restaurants, pop-ups, community markets, caterers, and more through a different take on Oakland Restaurant Week, adjusted for COVID. If you are a culinary small business and would like to participate, learn more here and email [email protected] to plug in. 
Do you like this post?
---